---
Our web site provides an introduction to photo based navigation. Photo based navigation makes it possible for you to use a photo to set destinations into your navigation on your smartphone. You can use digital photos, printed photos, and on-screen photos. Photo based navigation opens up a multitude of new possibilities. Discover these possibilities for yourself.
---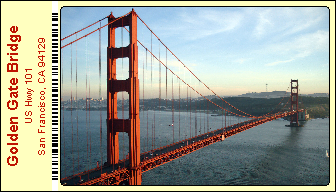 NaviCard - a Practical Tool for Photo Based Navigation
---
Imagine seeing an image of a wonderful location and thinking: "wouldn't it would be nice to go there". A bare ten seconds later your smartphone is ready for navigation and waiting for you to start.
---

If you have a smartphone with the iOS or Android operating system, the possibility for photo based navigation is open to you, too. Install the NaviCard application and point the camera of your smartphone at the NaviCard image. You will hear a beep from your smartphone, which will then enter navigation mode automatically and plan the route to the location shown on the image. Following this, turn-by-turn navigation will take you to your destination.
If you are already using some kind of navigation application that you like, you won't have to go without it. You can keep using it for photo based navigation after downloading the NaviCard application. If you don't have any navigation experience, enjoy the easiest way to navigate from now. You won't have to learn to use any complicated process and you won't need to know the address of the location shown, either. All you need is your smartphone and the image.
Cardboard hard copy NaviCard cards can launch and set the navigation of your smartphone just like the NaviCard image displayed on the screen. It's even enough to have the slim NaviCard code in any printed material, as this will be perfectly sufficient to set your smartphone's navigation. The NaviCard code can also be placed on various objects, offering a rich variety of possible uses. The NaviCard code may be placed on the key ear tags of a motel room, a ticket, a business card, or an invitation card. These will all help you find your way back to your motel room quickly and easily, find the location of a pop concert, get to the office of your business partner, or navigate to the location of a wedding.
If you have an iPhone, you can now use the NaviCard 2.0 app to navigate using the images stored in the Photos folder of your iPhone. Just touch the image selected and the device will switch to navigation, indicating the way to the location shown. You will easily find your way back to any location where you have ever taken a photo with your smartphone. If you park your car in a city that you are unfamiliar with, just take a picture of it. You can be sure that you will find it easily later.
The possibilities offered by associating images and locations are virtually endless. If you receive a photo from a friend on the beach, you will know exactly which deckchair your friend is relaxing on. You can find each other anytime in any remote location of the world if you send a photo to each other. The NaviCard 2.0 app can even do this in the middle of the desert as its built-in field navigation is independent of maps and works even without an Internet connection. If you travel to a country where no other navigation app works, the NaviCard app won't let you down, either. Off road navigation will take you to your destination in Cuba, China, and a whole lot of other countries where no other navigation is available lacking a street level digital map.
NaviCard opens up brand new opportunities to you that were previously unavailable. I'm sure you will find a few that you happen to like.
Our web site offers an online NaviCard designer application that you can use to create NaviCard cards in any location of the world. You can also create NaviCard stamps here. These contain a unique code that you can place anywhere. You can also make various publications capable of navigating to a location. You can also place a downloadable code in .png format in the Contact section of your web site so that your customers and buyers can easily find your office or place of business. You can also use the code downloaded in .pdf format for your printed publications.
Developments in progress will also offer more new possibilities. Join the continuously growing user base of the NaviCard app, which now numbers 26,000!
You can reach the online services that are already available with a single click in the menu bar above. Discover the highly user friendly opportunities of creating NaviCards which will make all of your activities related to navigation much easier. Make things easier for yourself and others and make it easier to find places than ever before. This video shows how you can use various navigation applications for photo navigation

Click on the SERVICE PAGE button down to open a new page and access the NaviCard online services. You will also find a ready NaviCard cards here, and can gain a lot more information on a number of NaviCard related topics.